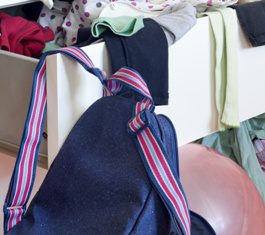 Who wants to deal with dirty laundry?  How can you get organized for this common household chore that most of us don't like to do?  Eventually you and your family are going to run out of clothes if you don't do it, so you may as well follow a few easy tips to stay on top of laundry day and keep your laundry room organized too.
I have a very small laundry "closet" in the hallway, so space is definitely an issue. I've experimented with two ways to store the dirty laundry. The first attempt was a triple sorter laundry basket with three separate compartments. One compartment or net for the whites, one for darks and one section for towels and jeans. This is a great tool to help kids sort the laundry but I found it was difficult for me to get to the bottom of the compartments because I'm short and my storage area was so cramped that it was hard to get to the compartment in the back. The second system I tried, and use to this day, is three brown, plastic laundry baskets on top of the washer and dryer labeled whites, darks and towels. Having separate bins is a super way to get laundry sorted before you're ready to wash it.
Don't waste valuable space by saving a bunch of cleaners that you don't like or you don't use. How many spot removers and sprays do you really need? Pull them all out, keep the ones you like and give away the ones you don't.
Keep only laundry related items in the laundry room to help you keep this space clutter-free and organized. The laundry room is not a catch-all place for all the items you don't know what to do with.  If you have items that just don't belong there, pass them on if you aren't using them or find a real "home" for them elsewhere.
Turntables or Lazy Susans are fantastic organizers for loading up all your sprays and cleaners on a shelf.  Just give 'em a spin and grab what you need. Spots be gone!
Organize your laundry room today so you can get that pesky chore done quickly tomorrow!
Courtesy of my Efficient Organization column in the Lake Stevens Ledger.