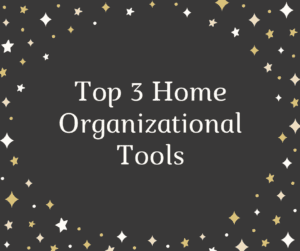 For any home to run smoothly, efficiently and to feel well-organized, there are a few tools you need to make it happen. Here are three that I've found to be very effective.
Home Organizational Tool # 1:  A calendar.  I would be lost without mine. Everything in my day begins and ends with my calendar. Use whatever type of system that works for you with your own natural tendencies. You can use a calendar with big squares and a pencil, a white board with a marker or a digital system on your phone. The point is to have one place where you can jot down all of your activities and even little reminders like phone calls to make or errands to run. Get in the habit of checking it every night to review and prepare for the next day's activities so you begin the day feeling on top of everything.
Home Organizational Tool # 2:  A mail center. It's crucial to have one place for all the current, incoming papers that come your way. Every day we have so much paper coming into our homes from work, incoming mail, meetings, school, etc. Create a simple "Action System" with a step sorter or a file box and file folders to separate papers until you have time to deal with them. Be sure to clearly label your folders.  Some examples of folder names may be:  Bills to Pay, Papers to Read, Things to Do and Receipts.  Think about what papers you are dealing with regularly and give them a home with a name.
Home Organizational Tool # 3:  A label maker.  No matter how nice your writing is, you can't top the clear, clean look of a label from a label maker. You don't have to spend very much money at all to get a handy little machine.  Using labels on folders, files and storage bins makes it very clear to everyone in your home where to get something and exactly where to put it back.  It makes it much more likely that belongings will be found easily, which will save you time and probably a dose of stress too.
Use these three home organizational tools to organize your home and your life today!
Courtesy of my Efficient Organization column in the Lake Stevens Ledger.