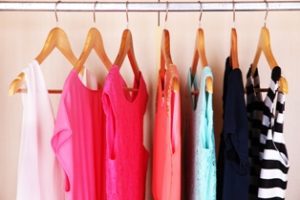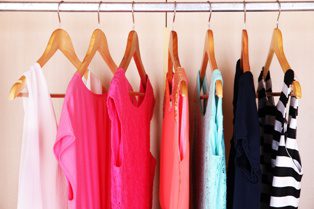 Question: What's the first thing we need to think about when it comes to our closets? Answer: We wear 20% of our clothing 80% of the time. So, what's really hanging in your closet or maybe even heaped on your bedroom floor right now? It's very likely, you have a lot of clothing that hasn't seen the light of day in a long time and it's just taking up space. That's a lot of clothing to push past so we can grab the same 20% that we do wear over and over again. 
So what should you have in your closet?  My advice is to only keep clothing that meets these criteria:
Looks good on you

Feels good comfortable when you wear it

Fits you well

Makes you feel your best
I believe when you get dressed each day, you should look and feel your best. Why wear something that doesn't fit those criteria? I don't want you going out in clothing that is uncomfortable or makes you feel less than the super star you are!
It's important to take the time to go through everything in your closet and make decisions about what should stay and what should go. There are many options for passing on clothing that no longer fits the bill from donating to selling at consignment shops. So feel free to let it go and let someone else benefit from the 80% that is just taking up space in your closet.
This leads me to the clothing you should consider parting with from your closet:
Clothing with rips or stains, really, even if it's comfy. Of course jeans you bought with tears for today's trends are fine.

Clothing in the wrong size for your current weight. Store future sizes in another closet or in just one area of your own closet.

Clothing that turned out to be a mistake; just call it good and pass it on. They can't all be winners.

Clothing that is out of style. Please don't save it until it comes back around again, there will be a new twist anyway.

Clothing that just doesn't make you feel your best.

Clothing that you haven't worn in at least one year. Formal clothing and holiday clothing that still fits and is in good condition can be the exception.
Pass on clothing that is in good condition to someone you know or to a charity. Someone will find your treasure and be thrilled with a good deal. You can even consider making some money from your clothing from selling at a consignment shop. When you part with clothing you won't miss it because you weren't wearing it anyway! You won't accidentally donate your favorite jeans.
Closet organizing is easy when you have a clear idea about what to part with and what to keep so you feel great when you get dressed each day!
 Courtesy of my Efficient Organization column in the Lake Stevens Ledger.